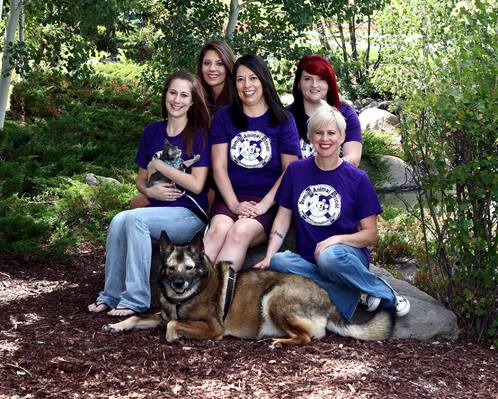 Located in Aurora, Colorado – Demi's Animal Rescue is a no kill animal rescue that focuses on solving pet homelessness through adoption, spay/neuter and pet retention. We do not discriminate against any animal that is in need and open our door to all regardless of their breed, age or special care required. We strive to see the day that pet homelessness is eliminated worldwide. Once an animal reaches Demi's Animal Rescue… It Only Gets Better From Here.
After years of advocating for animals, Demi started Demi's Animal Rescue – a registered 501c(3) non profit organization. Today, we have grown to a 5-member board and continue to make great strides in our endeavors to save more animals.
So What Makes Us Different?
We Do Not Discriminate:
A lot of organizations specialize in a specific breed, they may only take seniors or they may specialize in kittens and puppies and there is nothing wrong with that! Demi's Animal Rescue realizes that all types of animals are in need and are a victim of the pet homelessness, so we are open to take all cats and dogs. We have taken pit bulls, healthy kittens, special needs seniors, etc. As long as there is a foster available that is equipped to take the animal in need, the rescue is willing to support that animal and take it under it's wing!
This goes for fosters and adopters as well! Our approach is keeping in mind that although it may not seem like it sometimes, most people have the best intentions. A lot of small things that a foster or adopter would be denied for at another organization could be easily fixed with some education and effort. We believe that with these two things, most people will make the right decisions and in turn will help with our mission. Some of our best supporters were denied somewhere else for extremely small or fixable reasons. Taking the time and effort, really helps keep these people on the right track instead of pushing them towards breeders, pet stores or other sources of pets that we are trying to eliminate. An amazing home can't always be chosen based off a questionnaire which is why we like to engage in conversation to get a real idea of who they are.
Demi's Animal Rescue is a Place That an Animal Can Grow, Improve and Rehabilitate:
This is not just another place for a pet to pass through, but rather a place for improvement. We believe that there is no point in taking an animal and passing onto an adopter in the same day, without true knowledge on the pet. Pet Retention (or preventing animals from being rehomed) is a key ingredient to solving pet homelessness. Truly knowing a pet before sending him or her off to a forever home has the largest success rate for a pet staying in their forever home. When an animal comes to Demi's Animal Rescue, a 7 step checklist will be followed for every pet to ensure that the pet is ready for adoption and to ensure that a proper match is found.
Demi's Animal Rescue Has Big Goals:
We are growing and taking steps forward every day. We strive to become better at what we do and more importantly to save more animals! We have many long term goals that we are working towards and need help to reach them!
We Do Work on All Sides of the Issue:
Although our work is based around taking in homeless pets and finding forever homes for them, we do work on all sides of the issue. We do work to end Breed Specific Legislation, participate in Spay and Neuter efforts, help low income families feed their pets to help them be able to keep them, provide resources to families having issues with their pets to increase pet retention, involve the younger generations in pet rescue and more. If there is an opportunity to help with the big picture of pet homelessness we jump on it and try to work all sides of the issue.