I'm Mia – and this is my diary!
I joined my foster family from Every Creature Counts back in 2017. Sadly, they had to close their doors, but Demi's Animal Rescue took me and my sister, Letty, in to their care so we could stay with my awesome foster! Letty and I are both pretty shy, but we are hoping that our diaries will give you some insight into our lives and that you just may fall in love with one  us! We do not need to go to a forever home together, but we do need another kitty in each of our homes to help us continue to to grow!  If you'd like to read Letty's diary, click here!
Visit www.demisanimalrescue.com for more information on how to meet me!
---
2018-03-01 Dear Diary, Mia here.   This is my very last post as a foster cat.  That's correct, I am heading to my new home with my very own mommy!  Her interview went so well, that I hired her to be my forever human. This picture was me deciding which toys to bring with and what to leave for Letty.  Since I get a new house, I only took my favorite toy and left the big cat tree for everyone else.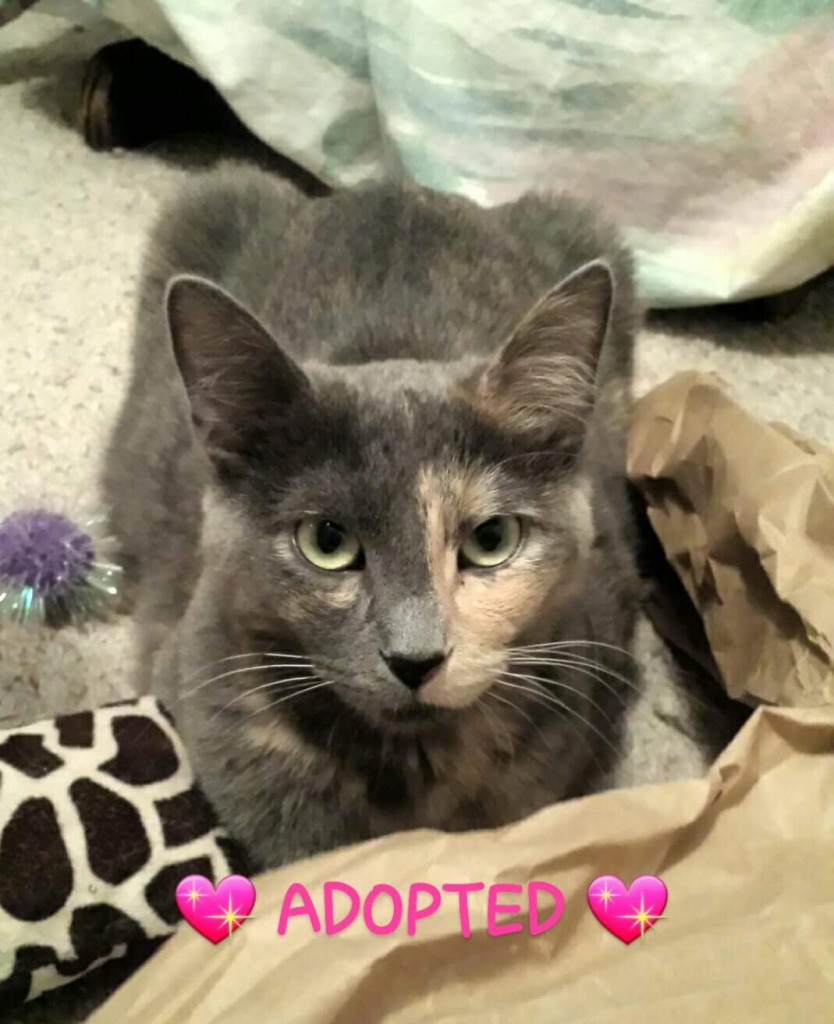 ---
2018-02-14  Dear Diary, Uncle T told us it was Valentines Day and that means you do something nice for someone you like a lot.  Long story short, I lost at rock, paper, scissors  (mostly cuz, we don't know what those things are), so I had to sit in foster mom's lap tonight (and not be bratty) for her Valentine present from us.  Don't judge the picture, I'm still learning about selfies.  Anyway, it didn't kill me, she was happy and I'm pretty sure Letty is a big fluffy cheater.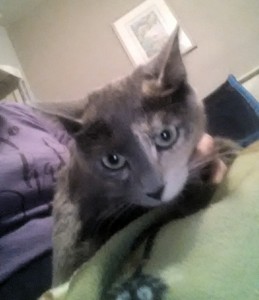 ---
2018-02-11 Dear Diary, here I am all settled in for story time and hiding from Uncle T who is stuck on scrub cycle (I feel for my sister, but I'm not willing to take a Sunday night bath in her place).  My training of the human is going well.  She will now come when I call her and scratch my head.  Who knew humans could be useful?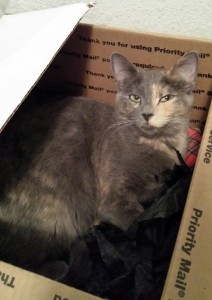 ---
2018-01-30  Dear Diary, it's me, Mia! Checkout whereI get to hang out for storytime – on foster mom's feet.  Ok, I admit, I do like partaking in some feet attack action before settling down (mom makes funny squeals).   Then, it's serious snuggle up and practice purring time.   We are reading ghost stories, so I'm staying close to someone who can protect me.



---
2018-01-18  It's me, Mia.  Here I am getting dolled up and hoping to meet my new family soon. I am still on the shy side and, well, currently slightly damp.  But, more importantly, I am also very sweet and can easily be bribed with treats and catnip toys. My Uncle helps out Letty & I with regular baths, but I do have self-cleaning functionality (it's just more fun to have servants).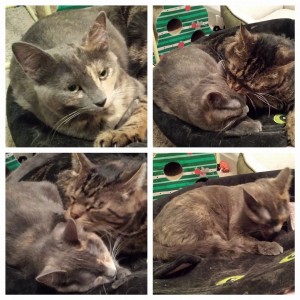 ---
2018-01-14  So, tonight, I asked Uncle Toretto if he had my back. Based on his answer,  I'm not sure he understood my question.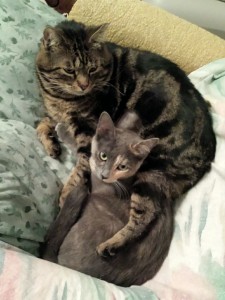 ---
2018-01-09 Yup, me again. I wanted everyone to know that I am not just only about posing and watching Netflix, I am also willing to earn my keep by grooming my companion and hunting toys that try to escape. My sister, Letty, & I have said goodbye to our tiny kitten days and are now happy, purring, playful teenagers.
---
2018-01-03 Hi, we were having a quite family evening.  I conned Uncle Toretto into taking care of mybath while Mia enjoyed a catnip toy.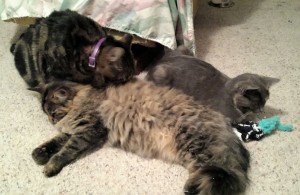 ---
2018-01-02   Letty has started coming out and asking for attention, but I still prefer a sneak attack behind foster mom or being near (just close enough to touch her).  She has also been trained to bribe me with catnip toys – I really like those!

---
2017-12-31  Me again– we celebrated the end of 2017 and welcomed 2018, otherwise know as the year Letty & I want to find our new families. I wanted to strike a pose and try extra hard to impress that special family!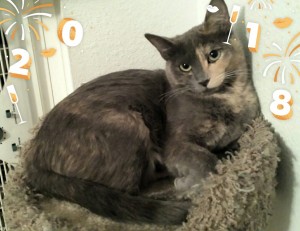 ---
2017-12-20 Tonight's festivities involved a new squeaking bird toy (with a feather tail!)  It was a family affair with our Uncle Toretto who was the responsible adult and thoroughly tested the new toy before the us kittens had at it.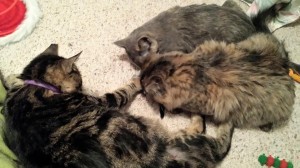 ---
2017-11-19  This is Letty & I with our brother, Brian.  See what he's doing?  This is why playing with him would be challenging.  Since this picture Brian has found his forever family.  We're excited for him and really happy to get our toys back to play with.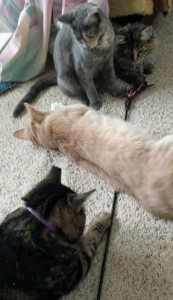 ---
2017-11-10  Here I am helping Uncle Toretto catch the feathers without getting up.  He told me I did great!
---
2017-10-31  We  LOVE our Uncle Toretto and like to mimic what he does.  Brian (our brother) used to stretch out and match the our uncle's positioning or follow him around and do the same things he was doing. Last night, I watched Uncle Toretto pat foster mom's fingers, so I started doing it too and acted like it's something I do all the time 😉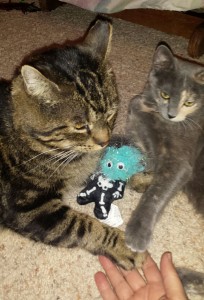 ---
2017-10-30  Uncle Toretto told me that any proper cat has decent wrestling skills and then proceeded to help me improve my throwdown technique.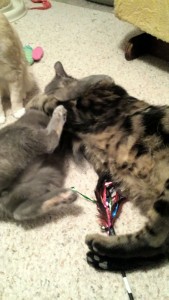 ---
2017-10-17 Today's lesson on how to be a house cat: meet and defeat the paper bag. Started out fine with little tutoring from Uncle Toretto. In the end, well let's just say, Paper Bag – 1; Boy Kitten – 0. This did show us that there is something scarier than being pet by a human, that would be an assault by paper bag, who can run just as fast as a kitten.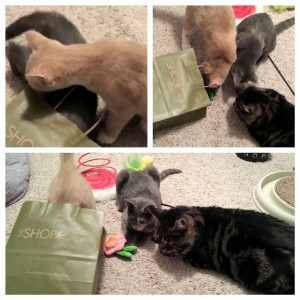 ---
2017-10-14 So today, I figured out how to do selfies.  These are fun!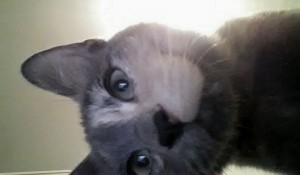 ---
2017-10-10 Holy Cow!  Look at this HUGE guy who moved in with us tonight.  Seriously, he's enormous.  Hope he's nice and doesn't eat all our food.  It took us a few minutes to decide that we liked him.  Uncle Toretto is kind of a big softie.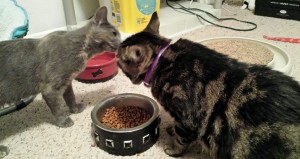 ---
2017-10-10 New toy & it fights back.  How cool is this???
---
2017-10-08  We've settled in here recently and get story time most evenings.  It's pretty nice, the human sits still and we get to run around her.  We got to play with the dog's cone of shame – what a great hideout.