I'm Letty and this is my diary!
I joined my foster family from Every Creature Counts back in 2017. Sadly, they had to close their doors, but Demi's Animal Rescue took me and my sister, Mia, in to their care so we could stay with my awesome foster! Mia and I are both pretty shy, but we are hoping that our diaries will give you some insight into our lives and that you just may fall in love with one us! We do not need to go to a forever home together, but we do need another kitty in each of our homes to help us continue to to grow! If you'd like to read Mia's diary, click here!
Visit www.demisanimalrescue.com for more information on how to meet me!
2018-03-29 Dear Diary, what to do?  what to do?  I know,  it's snowy out,  so I'll play with the bouncy Santa hat.  Santa and snow seem to go together.  Hope I get my belly rubbed too since I can multitask like that.   Hey Diary, my sister Mia sent a message that she's really happy with her new mommy and gets to watch birds from her window.  Waiting for the day when I can say that too!
---
2018-03-18 Dear Diary, it's been a crazy busy weekend in kittenland.  I have a new foster sister, her name is Ambrosia  (but she likes being called Bunny).  She's very nice and will hopefully be ready soon to find her forever family too.  Also, I got a VW bus of my own (well, to share with Bunny).  Uncle Toretto was nice enough to check it out first.    Now, off to an adventure, where to go first?
---
2018-03-13 Dear Diary, I have almost perfected my technique of playing while being lazy.  Soon, I'll be ready to teach my methods to cats everywhere.  Oops, gotta go, time for a belly rub from the human, then a bath from Uncle Toretto.  I'm telling ya, a kitten's work is never done.
---
2018-03-08 Dear Diary – this only child gig is working out for me.   I mean, I miss my sister (and even my brother), a lot but when there's a human here – NO WAITING for belly rubs and head scritches.  I'll be taking advantage of this extra attention until my forever family shows up.  After that,  my new family gets to enjoy my fluffy cloud soft coat and happy squeaks.
---
2018-03-01 Dear Diary, please call the police dogs! It's urgent!!  We appear to have had a cat burgler in our home.  I'm serious – my sister, Mia, was hugged (that was a little terrifying, but she was super cool about it, even purred) then she was put in a box and the lady left with her.   She missed dinner and everything.  Diary – I need you to figure out how to call the police dogs, Cat Woman, Black Panther and anyone else who can help.
When you're done with that,  if you could maybe find me a really nice human who will make me purr and be happy to see me too…well, I sure won't be opposed to interviewing them and impressing the humans with my floofiness and squeaks.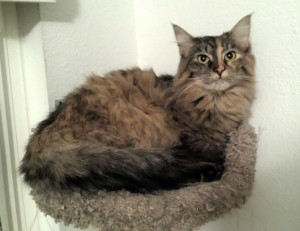 ---
2018-02-23 Hi Diary, did you miss me?  Mia & I got a new toy and we're busy showing it who is boss.   Check out our awesome teamwork!  Paws up & purrs for catdancer.com
---
2018-02-11 DEAR DIARY — SEND. HELP.  Uncle Toretto is stuck on heavy scrub cycle.  I didn't even get a chance to get that dirty.  Help!
---
2018-02-08 Dear Diary – holy cow!  What a crazy week it's been.  Strangers were here yesterday.  Strangers! I  say!!  I mean, they were nice and all, but oh my, they came in here to look at me and Mia.  That that was quite a big deal.  Then,  today, we thought the world was ending.  I heard something about "carpet cleaning."  What's that?  And why doesn't carpet itself clean like I do?  It's much more efficent and QUIET.   Goofy humans.
Anyway, Mia and I heard that our brother, Brian, is doing great.  Apparently , once he got his forever human, he bonded with her very nicely and is her little buddy.  That's what we want to do as soon as we get our forever families too – bond with our humans and make them our best buddies.
Maybe we'll get to be someone's Valentine? (I hope, I hope, I hope)
---
2018-01-30  Dear Diary – Hello, it's me,  Letty – I've been learning about this new thing called Brush.  Uncle Toretto oversaw the process and even helped,  so he made sure the human did it right.   He even insisted she practice on him first.  I like it and snuggled up with the human to tell her she did it right.  At least,  I think she did.   Uncle Toretto thought it was an acceptable technique and it made me purr.


---
2018-01-24 Dear Diary, foster mom tried convincing me 'Stuff On My Cat' is a legit game.   Someone needs adopt me soon and end this abuse.  She took advantage of my floofiness to nest more toys on me.  I just can't believe my fluffy fur was misused like this!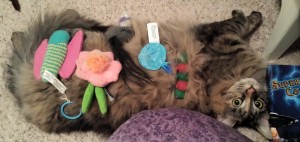 ---
2018-01-09 Hi, Me again. Can you believe my human foster thought these poses weren't totally "bringing it"? Just to prove I could do "prettier" we took this picture too.




---
2018-01-03 Hi, we were having a quite family evening. I conned Uncle Toretto into taking care of my bath while Mia enjoyed a catnip toy.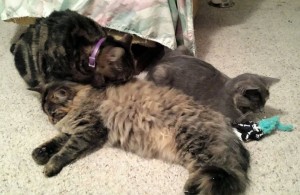 ---
2018-01-02 Dear Diary – admittedly, it's taken me a few calendar pages, but now when I show up to hang out, I like to be right next to my foster mom, purring, sometimes belly up, and usually squeaking for attention (that's me, not foster mom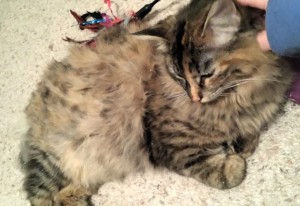 ---
2017-12-20 Hi, I'm showing off how a lazy cat hunts. I have crazy skills, I know.
https://www.facebook.com/carol.donahue.90/videos/1838372119537305/
---
2017-12-20 Tonight's festivities involved a new squeaking bird toy (with a feather tail!) It was a family affair with our Uncle Toretto who was the responsible adult and thoroughly tested the new toy before us kittens had at it.



---
2017-12-15 Check me out posing with Uncle Toretto. I'm adorable, I know.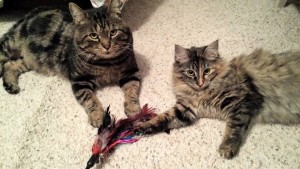 ---
2017-12-12 Milestone moment!!! I hung out with the human for a few minutes to get attention tonight (as opposed to my normal "please pet me while I hide under the chair" position). I purred the whole time and if she stopped petting me, I gave a pouty kitten face.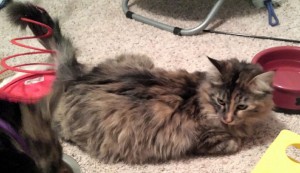 ---
 2017-11-19 I may be shy, but I also know how to strike a super chill pose.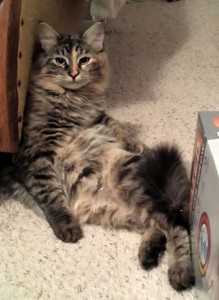 ---
2017-11-19 This is us with our brother, Brian. See what he's doing? This is why playing with him would be challenging. Since this picture Brian has found his forever family. We're excited for him and really happy to get our toys back to play with.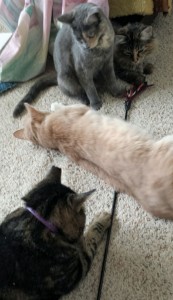 ---
2017-11-16 It's me, Letty – I risked life, limb, and having my head scratched just for Beachside yummies tonight. Seriously – I don't think Friskies could pay for better advertising to demonstrate just how yummy these treat are. I mentioned risking life, limb and being touched, didn't I?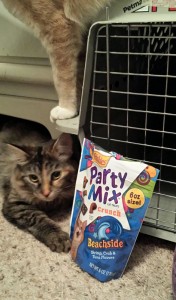 ---
2017-11-10 Here me and Mia are with our brother, Brian. We were planning our adventures for the day. Can you even spot me in this photo?!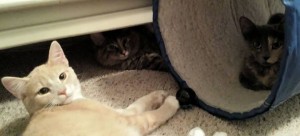 ---
2017-11-09 I am still very shy and it was a bonus that I popped out of hiding to hang out with the family tonight.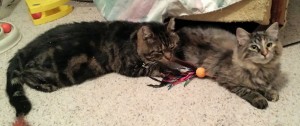 ---
2017-11-04 – Kind of big news in our kittenland – I continue to (slowly) come out of my shell. Mia & I had breakfast while standing on our foster human and we let her pet us.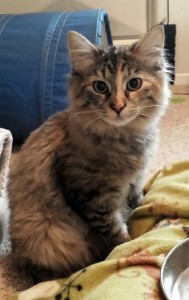 ---
2017-10-08 We've settled in here recently and get storytime most evenings. It's pretty nice, the human sits still and we get to run around her. We got to play with the dog's cone of shame – what a great hideout. This is my brother (Brian) & sister (Mia), I'm here, but under the chair and tougher to see. My foster family has to look under the chair to visit with me, I'm just not quite sure about them!